Just now, AOK PLUS has entered into a cooperation with Nia Health. As of now, it will cover the costs for the premium version of the Eczema App Nia, as one of a total of five statutory health insurers. Especially in this difficult time of the year for people suffering from atopic dermatitis, AOK PLUS is now providing even more support for its 3.4 million insured members.
Eczema, also often used as a synonym for atopic dermatitis, is a chronic inflammatory dermatosis. The non-contagious skin disease manifests itself through excruciating itching, dry skin and redness, even blistering. Especially at this time of the year, the cold outside temperatures and dry heating air can cause worser skin conditions. Those who are affected, suffer physically and psychologically as a result of the disease, which is particularly tragic since half of the patients are children.
The Eczema App Nia supports those affected day by day with fully comprehensive digital support. The goal here is to help sufferers regain control over their skin condition and empower them in their management of the disease. Together with AOK PLUS, the Berlin-based company and Charité spin-off Nia Health wants to make the Nia App available to even more people suffering from atopic dermatitis.
More and more health insurance companies reimburse the Nia App
"For us, the cooperation with AOK PLUS is another milestone. It's great to see that more and more health insurance companies are becoming our partners and supporters. Together with AOK PLUS, we are getting a bit closer to our common goal – to reach more people affected by the disease."
explains Tobias Seidl, CEO and Co-Founder of Nia Health.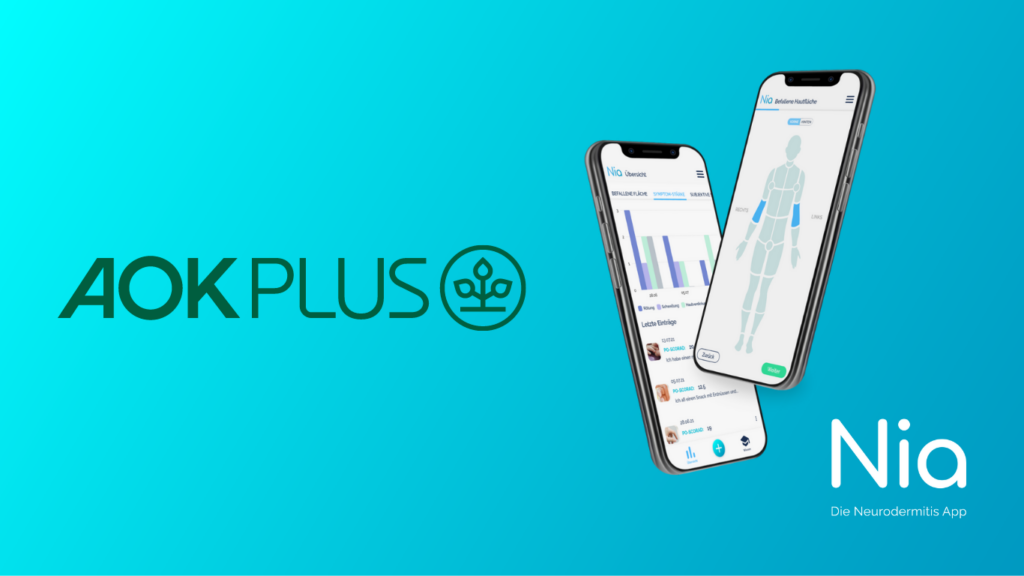 The award winning Eczema App Nia – fully comprehensive digital support
To achieve its goal, Nia takes a holistic approach. For example, photo documentation of skin condition is complemented by the use of PO-SCORAD, a clinical metric. Nia offers functionalities to identify potential, highly individualised thrust triggers for flare-ups.
The Nia App thus records and evaluates severity, quality of life limitations and atopic dermatitis flare-ups. Beyond that, those affected can obtain helpful background knowledge and tips & tricks for everyday life in the knowledge section through scientifically validated articles and videos. The information and content provided is based on the renowned AGNES e.V curriculum and was developed with experts.
The Eczema App Nia has been approved as a medical product, has won several innovation competitions and is used by thousands of adults as well as parents with affected children. It is the most widely used Eczema app in German-speaking countries.
About AOK PLUS:
AOK PLUS is the largest statutory health insurance fund in Saxony and Thuringia and serves more than 3.4 million insured persons, with continuous growth. Germany's sixth-largest health insurance company values innovative approaches to improving the care situation of its insured.
Press contact:
Tobias Seidl
press@nia-health.de